Top Stores for Mobile Accessories in The Uk
Mobile phones are now the most popular technology among adults today and have become a necessity of livelihood, a must-have item for almost all people living around. Mobile phone usage includes calling someone, sending text messages, checking personal and business emails, playing games online, and keeping in touch with friends and family. This pocket-sized technology provides maximum assistance to people in their personal lives to fulfil daily requirements and stay connected with loved ones.
However, on the other hand, mobile accessories include any hardware that is not integral to the operation of a mobile smartphone as designed by the manufacturer but one can improve the mobile's performance and can add a protection layer to the phone.
Mobile accessories are very important for mobiles but it is useful only when you purchase the right equipment for your mobile phone. Always buy items that are compatible with your mobile phone. Never take any risk by investing in mobile accessories that are not compatible with your phone. Here we have created a list of top stores for mobile access in the UK.
1. MyTrendyPhone - Cases & Numerous Mobile Accessories
MyTrendyPhone was established in 2003 and since then the company has grown to be one of the largest online shops for mobile accessories. They have extended our product range to include: mobile phones, music players, consoles, iPads, laptop accessories etc. With a team of 300 employees throughout Europe, they now have over 15 online shops in different countries.
MyTrendyPhone is your online source of any mobile phone accessories that you could possibly need for your device. You'll be glad to hear that their offer also includes an assortment of useful add-ons for tablets and a fine selection of cheap SIM-free mobile phones if you're in the market for a new handset. On their pages, you'll topple upon products for all the top names in the world of technology, including Apple, Samsung, Microsoft, Huawei, Motorola, Sony, HTC, LG etc. Aside from their collection of accessories, their prices are very fantastic, friendly customer support team, and a safe shopping experience. Besides, you can make a difference just by buying a product from our Eco Line category. Together with One Tree Planted, we will plant one tree for every sold product from this category, which includes many different eco-friendly, recycled and sustainable products.
MyTrendyPhone sells quality accessories for mobile phones, accessories for iPods and other MP3 players, accessories for digital cameras and camcorders, PC and laptop accessories as well as Bluetooth equipment. With a product range of over 100,000 different accessories, we have a strong position in the mobile market. Besides the United Kingdom, MyTrendyPhone currently delivers products to Denmark, Sweden, Norway, Finland, Germany, France and over dozen other European countries.
Visit MyTrendyPhone today and shop for affordable accessories for smartphones and tablets! From protective covers and mobile phone cases to chargers and Bluetooth headphones, they offer all the best tablet and mobile phone accessories.
2. Amazon - Everything You Need for Your Mobile
Amazon, Inc. is an American multinational technology company which focuses on e-commerce, cloud computing, digital streaming, and artificial intelligence. It has been referred to as "one of the most influential economic and cultural forces in the world", and is one of the world's most valuable brands. Get low prices at Amazon on mobile accessories, digital cameras, MP3, Bluetooth devices and many more.
3. MobileFun - Smartphone & Tablet Cases, Screen Protectors, Chargers and More
MobileFun is the UK's largest online mobile accessory retailer - offering the latest tablet and mobile phone accessories. They put their success down to responding to what their customers want and their extensive range of the latest mobile accessories teamed with world-class customer service. Trusted by over 4 million customers, who have provided over 180,000 product reviews, in addition to over 4000 Trustpilot reviews.
As a company, MobileFun is dedicated to constant innovation to enhance everyone's experience, and it's thanks that they now offer over 140,000 customer product reviews and have ensured the continuous development of their website to offer features based on customer feedback.
Discover the UK's best range of smartphone & tablet cases, screen protectors, chargers and more. Find all the biggest brands at low prices.
4. Adidas Cases - Adidas Originals Sports Phone Cases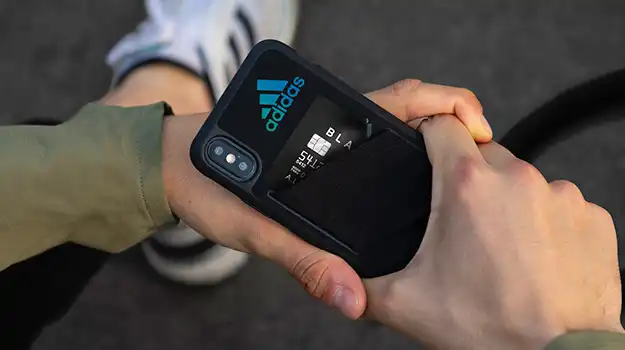 Adidas is a global leader in the sporting goods industry, offering a broad portfolio of footwear, apparel and hardware for sport and lifestyle. TLF is a company with a passion for protective mobile device accessories. Since 2013 TLF designed, develops, manufactured and distributed cases for devices such as smartphones, tablets or laptops under the trademarks of Adidas Originals and Y-3.
For Adidas Originals TLF creates two seasonal collections. These Adidas Originals branded cases for devices such as Apple iPhone, iPad and Samsung Galaxy and sleeves for larger devices like laptops help to extend the brand product portfolio and the brand to become the most influential and connected brand in street culture.
Explore the Adidas Originals, Adidas Sports cases, always-on mobile accessories range, a legacy item going back to the roots of street style.
5. Nolii - iPhone Cases, Batteries, Wallets and a Fitness Band
A people-first ecosystem of modular tech accessories that help you do more, with less. A better design doesn't just equal good functionality and nice aesthetics. It also has less impact on the environment.
Nolii's products are built to last, and their lifestyle accessories won't have to be upgraded every time you upgrade your tech. Sure, they have a very long way to go in terms of becoming a truly sustainable company, but they are making progress towards this every day.
The modular Nolii Couple range includes iPhone Cases, Batteries, Wallets and a Fitness Band, connected by a patented Couple connector. Discover the range and Shop Now.
6. The Kase
Creators from around the world, stores on every continent, brands hailing from all corners of the world: The Kase is a totally international brand whose ambition is to exist everywhere. Where you least expect it and, above all, at a location near you.
Unlike its competitors, The Kase is proud to be able to dress up a very large range of mobiles on the market. They are the first brand which offers such a unique and diverse range of accessories for tablets and smartphones.
The Kase is also a physical network in full expansion. Established today on 5 continents, they have 80 boutiques in Europe (65 in France, but also in Belgium, Luxembourg, Switzerland and Italy), 10 sales outlets in Asia (Hong Kong, Singapore, Indonesia, Philippines), 5 in the Middle East (Turkey, Qatar, Saudi Arabia, United Arab Emirates) and 4 in the USA. The Kase network is constantly growing and will expand further in many countries.
You are unique and The Kase knows it: your smartphone, your tablet and your headphones should be as well. Kase offers an almost infinite choice of cases, covers and accessories that adapt to your tastes, your moods, your style and, above all, your personality. Find what you fancy among the visuals that come straight from the imagination of our creators, or among the models proposed by major international brands. Would you prefer to be the creator of your desires? Choose the type, material and colour that suit you, and select the perfect image from your own visuals. In a few clicks, you are Unik!
Since the beginning, The Kase has developed a community, in constant evolution, of over 5000 international creators. The creators' visuals are showcased through temporary and permanent collections. In stores, the best visuals are brought together from the different collections, according to season, trends and our favourites.
Discover the range of Design & fashion cases, customized cases, power banks, speakers, earphones & accessories for smartphones, iPhones and tablets and many more.
Hope you enjoyed the reading, please do not hesitate to share your opinion on the post with us.