Top Headphone and Earphone Brands in the UK
In the United Kingdom, a multitude of audio enthusiasts are constantly in pursuit of the finest auditory experiences, and it is these premier headphone and earphone brands that take the lead in providing unparalleled sound quality and groundbreaking technology. Renowned for their commitment to excellence, these top-tier brands continue to set the bar high, consistently delivering exceptional audio performance and innovative features that cater to the diverse needs and preferences of their discerning customer base. With a focus on craftsmanship, technological innovation, and an unwavering dedication to the art of sound, these brands have cemented their positions as the foremost providers of cutting-edge audio solutions, catering to the demands of even the most discerning audiophiles and music enthusiasts.
What Are the Top Headphone and Earphone Brands Revolutionizing UK's Audio Scene
Delve into the world of premium audio experiences with the top headphone and earphone brands in the UK, renowned for their unwavering commitment to innovation and excellence, including Sennheiser, Bose, Sony, Beats by Dr. Dre, Jabra, Audio-Technica, AKG and Soudcore.
Sennheiser
With a rich legacy of over 75 years, Sennheiser has solidified its position as a pioneer in the audio industry. Offering a diverse range of versatile headphone models, Sennheiser ensures that users can enjoy premium sound quality in any setting, whether on the move or at home.
Bose
Bose, a firm believer in the power of sound, has been tirelessly pursuing audio perfection for nearly six decades. The brand's relentless dedication to innovation has resulted in transformative advancements in audio technology, ensuring that every listening experience is nothing short of extraordinary.
Sony
Recognized for its cutting-edge technology and sleek designs, Sony's headphones and earphones cater to a diverse range of users, from ardent audiophiles to everyday music enthusiasts. Sony's commitment to delivering exceptional audio experiences has solidified its position as a leading brand in the audio industry.
Beats by Dr. Dre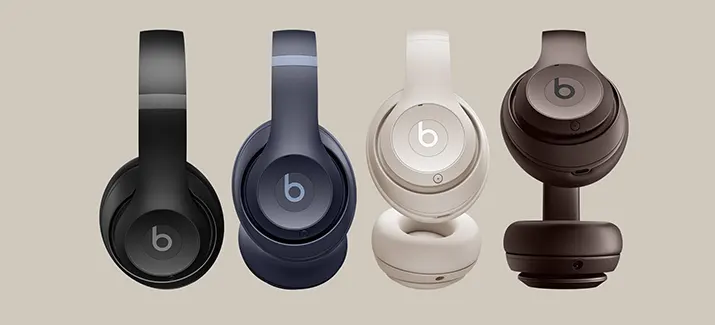 Established in 2006 by Dr. Dre and Jimmy Iovine, Beats has redefined premium sound entertainment. The brand's family of high-end consumer headphones, earphones, and speakers has introduced a new generation to the world of superior sound quality and has continued to elevate the music-listening experience for individuals worldwide.
Jabra
Jabra's commitment to producing top-of-the-line solutions has yielded a strong reputation for engineering excellence and innovative design. With a harmonious blend of form and function, Jabra's products are meticulously crafted to provide users with an intuitive and premium audio experience.
Audio-Technica
Founded with a vision to enable more individuals to experience the warmth of analogue listening, Audio-Technica has remained dedicated to providing high-quality audio solutions accessible to all. From critically acclaimed headphones to turntables and microphones, Audio-Technica continues to champion the pursuit of pure, natural sound.
AKG
Synonymous with good sound, AKG has established itself as a key player in the world of sound, driven by a passion for music and unwavering innovation. With a history of groundbreaking products and technological advancements, AKG remains a trailblazer in the music industry, providing the highest quality and ongoing innovation in the world of audio.
Soundcore
Soundcore is specializing in premium headphones and true wireless earbuds that cater to the diverse needs and preferences of modern consumers. With a strong commitment to delivering exceptional sound quality, Soundcore continuously strives to create innovative and user-friendly audio solutions that enhance the audio experience for music enthusiasts, audiophiles, and everyday users alike. Emphasizing inclusivity, inspiration, and continuous evolution, Soundcore remains dedicated to providing cutting-edge audio technology that enriches everyday life and elevates the way people enjoy music and sound.
Frequently Asked Question
Where is the headquarters of Sennheiser located?
Sennheiser's headquarters are situated in Germany, reflecting their strong European heritage and commitment to audio innovation.
What makes Bose headphones stand out from the competition?
Bose headphones are known for their powerful sound delivery and innovative noise-cancelling features, providing users with an immersive and personalized listening experience.
Does Sony offer wireless headphone options?
Yes, Sony provides a wide range of wireless headphones, catering to users looking for convenience, comfort, and superior sound quality without the hassle of cables.
Are Beats by Dr. Dre products compatible with all devices?
Beats by Dr. Dre products are designed to be compatible with various devices, including smartphones, tablets, laptops, and other audio devices, ensuring a seamless listening experience.
Where can I find AKG products outside of the UK?
AKG products are available globally, with a strong presence in various countries across Europe, the Americas, and Asia, ensuring accessibility for music enthusiasts worldwide.