Samsung Galaxy Watch5 Pro: Your Ultimate Companion
In today's tech-savvy world, our smartphones have transformed into powerful command centres, but let's not forget about the significance of wearable tech. Enter the Samsung Galaxy Watch5 Pro – a smartwatch designed to be your ultimate companion in the digital age. With a host of features ranging from GPS route tracking to advanced health monitoring, this wearable marvel is here to redefine your daily routines.
Unleashing Innovation: Samsung Galaxy Watch5 Pro Features
GPS Route Tracking: Navigating Your Adventures
The Galaxy Watch5 Pro comes equipped with an innovative Route Workout feature that allows you to import GPX format workout routes from your smartphone. Whether you're cycling or hiking, this smartwatch keeps you on the right path with voice or vibration-guided turn-by-turn navigation.
Battery: Power That Lasts
Don't let a dead battery derail your workout. The Samsung Galaxy Watch5 Pro boasts the largest battery capacity in its wearable series, ensuring you can go the extra mile without worrying about charging.
Health Monitoring: Your Wellness Guardian
Equipped with a powerful 3-in-1 Samsung BioActive Sensor, this smartwatch keeps tabs on your health like never before. From Optical Heart Rate to Electrical Heart and Bioelectrical Impedance Analysis, it tracks various health metrics. You can monitor your heart rate, blood pressure, and even your body fat percentage, offering comprehensive insights into your well-being.
Fitness: Your Personal Trainer
Counting steps, calories, and more is a breeze with the Galaxy Watch5 Pro. It automatically detects physical activities, supporting over 90 exercises. Keep a close eye on your progress and stay motivated.
Sleep Tracking: A Restful Night's Sleep
Say goodbye to restless nights with improved sleep-tracking technology. This feature monitors your sleep stages, helping you cultivate healthier sleep habits. It even assigns sleep types using eight adorable animal sleep symbols, providing you with nightly sleep reports for a well-deserved rest.
Performance: Built for Excellence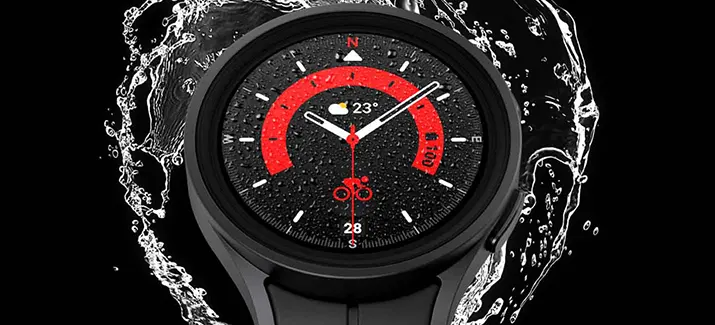 The Galaxy Watch5 Pro is built to withstand your toughest workouts. With a Sapphire Crystal display and water-resistant design, it's two times tougher than before. Its rugged yet sleek exterior can take on the most challenging environments.
Camera Controller: Capture Moments with Ease
Use your smartwatch to control your smartphone camera. Whether you're taking group selfies or solo vlogs, the Galaxy Watch5 Pro ensures you're always in frame. With features like zooming and remote capture, your creativity knows no bounds.
Wear OS: Seamless Integration
The stand-alone Wear OS makes adding applications like Google Maps or YouTube Music a breeze. Access everything you need directly from your wrist.
Design: A Timeless Timepiece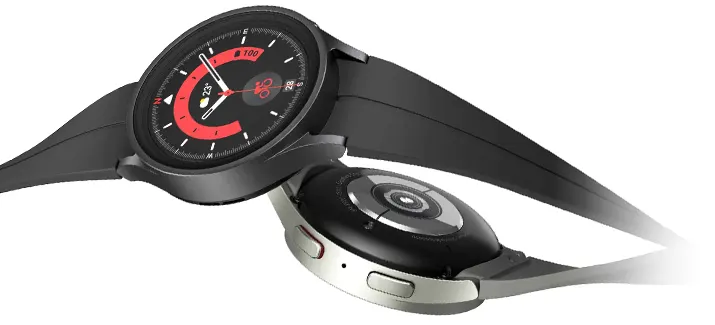 Crafted with a premium Titanium body and a stunning Sapphire Crystal, the Galaxy Watch5 Pro effortlessly combines classic style with modern functionality. It's not just a smartwatch; it's a timeless accessory.
Specifications at a Glance
1. NFC for convenient payments
2. Bluetooth v5.2 for seamless connectivity
3. 1.4" Super AMOLED display with a resolution of 450 x 450 pixels
4. Powerful 1.18GHz Dual-Core processor
5. 16GB of storage to keep your data at hand and 1.5GB of Ram
6. A wide range of sensors for accurate tracking
7. Wi-Fi, GPS, Glonass, Beidou, and Galileo support
8. Water-resistant with a durable Sapphire Crystal
The Samsung Galaxy Watch5 Pro is more than just a smartwatch; it's your companion for adventure, health, and convenience. Stay connected, stay fit, and stay stylish with this extraordinary wearable.
Explore the world with the Galaxy Watch5 Pro – where innovation meets elegance.
FAQs About the Samsung Galaxy Watch5 Pro
1: What makes the Galaxy Watch5 Pro stand out among smartwatches?
The Galaxy Watch5 Pro distinguishes itself with a combination of features such as GPS route tracking, advanced health monitoring, and a durable design. It's your ultimate wearable companion.
2: Can I customize the watch faces on the Galaxy Watch5 Pro?
Absolutely! Choose from a wide selection of watch faces, from analogue to digital and vintage to modern, to match your style and preferences.
3: Is the Galaxy Watch5 Pro suitable for fitness enthusiasts?
Certainly! It supports over 90 exercises, tracks steps and calories, and offers comprehensive fitness insights. The Galaxy Watch5 Pro is the perfect workout companion.
4: How long does the battery of the Galaxy Watch5 Pro last?
With the largest battery capacity in its series, the Galaxy Watch5 Pro provides up to 80 hours of typical usage time, ensuring it can keep up with your active lifestyle.
5: Can I control my smartphone's camera with the Galaxy Watch5 Pro?
Yes, you can! The smartwatch allows you to snap photos and control your smartphone's camera remotely, making it perfect for group selfies and vlogs.