Recommended USB Flash Drives to Buy in the UK in 2023
USB flash drives are essential data storage devices for individuals and businesses alike. In 2023, several top-tier brands are offering cutting-edge USB flash drives equipped with advanced features and superior security measures. Here are some of the most highly recommended USB flash drives available in the UK market, known for their exceptional performance and robust security protocols.
What Are the Best USB Flash Drives To Buy in the UK in 2023?
Corsair Flash Voyager® GT USB 3.0 Flash Drive
CORSAIR, a leading global developer and manufacturer, specializes in high-performance gear and technology for gamers, content creators, and PC enthusiasts. Offering a comprehensive ecosystem of products, from award-winning PC components and peripherals to premium streaming equipment, smart ambient lighting, and esports coaching services, CORSAIR empowers individuals of all levels to achieve their best in the gaming world.
Corsair's Flash Voyager® GT USB 3.0 Flash Drive stands out as a superior option, outpacing standard 3.0 flash drives. With data transfer rates up to two times faster than standard USB 3.0 drives and up to eight times faster than USB 2.0 drives, delays during file transfers are a thing of the past. Its exceptional portability and convenience make it a must-have accessory for users on the go, emphasizing the importance of reliability.
Featuring finger-friendly ergonomics, the Flash Voyager GT USB 3.0 is designed for maximum comfort, encouraging users to carry it everywhere. Its proprietary all-rubber housing ensures exceptional durability, providing worry-free transportation for valuable data. Additionally, the water-resistant feature offers an added layer of protection, guarding against unexpected accidents.
Unlike traditional storage media, flash drives are solid-state, making them highly capable of withstanding everyday wear and tear, including drops and bumps. This robustness ensures a longer lifespan, catering to the demands of users' busy lifestyles.
SanDisk Extreme PRO USB 3.2 Solid State Flash Drive
SanDisk, renowned for its cutting-edge solutions, offers an extensive range of products catering to diverse needs. From high-performance memory cards and card readers designed to capture every moment, to versatile USB flash drives that optimize storage and efficiency across various devices, SanDisk has established itself as a trusted name in the industry. Additionally, their top-of-the-line portable and external drives, including the innovative Ixpand series, ensure seamless management, storage, and sharing of smartphone content. With a strong focus on digital photography, SanDisk provides robust tools for capturing, editing, and preserving inspiring moments. Supported by the expertise of the SanDisk Extreme Team, professionals rely on SanDisk's solutions to tackle even the most challenging shots.
The SanDisk Extreme PRO USB 3.2 Solid State Flash Drive is custom-built for individuals who require swift data transfer for large files. This flash drive delivers maximum performance, allowing users to set their pace and accomplish tasks efficiently.
In addition to its sturdy build, the flash drive comes equipped with the SanDisk SecureAccessTM encryption software, which adds an extra layer of security to protect sensitive data, giving users peace of mind about the safety of their information. Moreover, the drive is designed for USB 2.0 and 3.0 backward-compatibility, allowing it to seamlessly connect with various devices, providing a convenient and versatile data transfer solution for users across different systems and platforms.
Apricorn Aegis Secure Key 3.0 USB Flash Drive
Apricorn, based in Poway, California, is a trusted provider of hardware-based external storage solutions, specializing in robust 256-bit encrypted products designed to safeguard data at rest for businesses and organizations. With a legacy dating back to 1983, Apricorn has been at the forefront of innovation, earning accolades for its creations under the Apricorn brand and in collaboration with leading computer manufacturers as an OEM partner.
The Aegis Secure Key 3.0 stands out as one of Apricorn's most resilient encrypted devices, holding IP68 certification, which attests to its ability to withstand blowing dust and prolonged water immersion. Notably, it offers the largest storage capacity among devices in its class. Setting it apart as a secure storage solution, the Aegis Secure Key 3 employs 100% hardware-based 256-bit AES XTS encryption. This encryption operates seamlessly, and access requires authentication via an onboard keypad PIN. With ultra-fast USB 3.1 (3.0) data transfer speeds, data is encrypted on-the-fly, and the PINs and data remain protected when the drive is at rest.
The Aegis Secure Key 3.0 excels in cross-platform compatibility, making it adaptable to a variety of operating systems, including Windows, Linux, Mac, Android, Chrome, and embedded systems. Furthermore, it can be used with equipment that possesses a powered USB port and storage file system. The drive's internal components are shielded against physical tampering, featuring a hardened epoxy layer. Additionally, its firmware is secure, rendering it resistant to malware attacks, such as BadUSB. This multifaceted security solution offers peace of mind and data protection in an increasingly interconnected digital landscape.
iStorage datAshur PRO² USB 3.2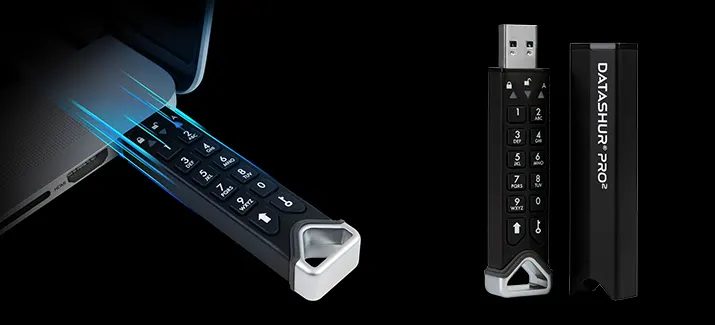 iStorage is a trailblazing brand known for its expertise in secure and user-friendly data storage solutions. Focused on ensuring customer satisfaction, iStorage offers a comprehensive lineup of certified products that meet the highest security standards. Through the integration of cutting-edge encryption technology, iStorage ensures robust data protection and confidentiality, aligning with data protection laws and mitigating data leaks. Committed to delivering exceptional service, the iStorage team embodies values such as loyalty, honesty, integrity, and ambition. The brand's industry recognition through prestigious awards and certifications solidifies its standing as a leader in the realm of highly secure portable data storage devices.
The datAshur PRO² USB 3.2 Gen 1 flash drive is a PIN-authenticated, AES-XTS 256-bit hardware-encrypted device designed to securely encrypt, store, and protect data up to military standards. The datAshur PRO² empowers users to safeguard critical and sensitive data, ensuring compliance with rigorous data protection and confidentiality regulations and directives such as GDPR, HIPAA, SOX, CCPA, and more.
All data stored on the datAshur PRO² undergoes encryption using FIPS PUB 197-validated, AES-XTS 256-bit hardware encryption. Additionally, all components integrated into the datAshur PRO² are shielded by a layer of highly resilient epoxy resin, rendering any attempts to remove components nearly impossible without causing permanent damage. The drive's design incorporates tamper-evident features, making it evident if any unauthorized attempts have been made to pry it open or tamper with its internal mechanisms.
Kingston IronKey Encrypted USB Flash Drive
For more than three decades, Kingston products have played a crucial role in the IT infrastructure of Fortune 500 companies. As an established solution partner, our offerings consistently deliver reliable performance. Additionally, we provide award-winning encrypted storage solutions to safeguard data within and outside the firewall. With top-notch Kingston storage and memory solutions, data centres, cloud platforms, workstations, mobile data, and virtual environments can confidently deliver secure solutions and optimize their application efficiencies.
The Kingston IronKey™ USB Flash drive embodies an advanced level of security, building on the key features that have long made IronKey a respected name in the industry. It is certified at FIPS 140-2 Level 3 and boasts 256-bit AES hardware-based encryption in XTS mode. This high level of security is instrumental in establishing robust security standards, corporate policies, and data loss prevention (DLP) best practices. Furthermore, it serves as a pivotal component in ensuring compliance with industry standards and global regulations, including the GDPR.
Notably, the IronKey USB Flash drive is available in a Managed model that requires SafeConsole or IronKey EMS1 for enhanced management capabilities. Its rugged and tamper-resistant casing meets IronKey's stringent standards, ensuring durability and protection. Leveraging the latest NAND Flash and controller technology, the device facilitates fast data transfers. With customizable features and a user-friendly design, the IronKey Flash drive offers a seamless user experience. It is also NATO approved, underscoring its reliability and security in critical applications.
Frequently Asked Questions About USB Flash Drives
1. What is the difference between USB 2.0 and USB 3.0/3.2?
USB 3.0/3.2 offers significantly faster data transfer rates compared to USB 2.0. This means that files can be copied and transferred at much higher speeds with USB 3.0/3.2.
2. Are USB flash drives compatible with various operating systems?
Yes, most USB flash drives are cross-platform compatible and can work seamlessly across multiple operating systems such as Windows, Linux, Mac, Android, and others.
3. How secure are hardware-encrypted USB flash drives?
Hardware-encrypted USB flash drives provide a robust layer of security, often employing features such as AES-256 bit encryption. These drives ensure that sensitive data remains protected even if the drive is lost or stolen.
4. Do USB flash drives offer any resistance to physical damage?
Certain USB flash drives, like the Aegis Secure Key 3.0 and other rugged models, come with robust casings that offer resistance against physical tampering, water immersion, and dust, ensuring the safety of the data stored within.
5. What are the encryption standards used in USB flash drives?
USB flash drives often use advanced encryption standards such as FIPS 140-2 Level 3 and AES-XTS 256-bit encryption to secure data, ensuring compliance with industry-specific regulations and data protection laws.
6. Can USB flash drives be managed and controlled within an organization's network?
Yes, some USB flash drives are equipped with management capabilities that enable organizations to monitor and control the usage and access of these devices, ensuring enhanced security and data management within the network.