Empowering Your On-The-Go Lifestyle: The Best Power Banks of 2023
Never run out of battery again with the latest power banks designed to keep your devices charged on-the-go. From high-capacity options to rugged designs, these power banks ensure you stay connected during outdoor adventures and remote working situations. Discover the best power banks of 2023 that offer rapid charging, diverse compatibility, and advanced safety features for worry-free charging on any device.
What Are the Best Power Banks in The UK
Stay powered up and connected with these top power banks that offer reliability, durability, and fast charging capabilities to keep you going throughout the day, no matter where you are.
Sandberg Powerbank 2xUSB-C PD100W 30000
The Powerbank 2xUSB-C PD100W 30000 is a powerhouse, enabling simultaneous charging of two large laptops. Its dual USB-C PD ports, along with two powerful QC 3.0 USB-A ports, make it the ultimate backup solution during power outages. Equipped with a digital display for quick charge status checks and a durable, fireproof case, it ensures rapid charging in under 90 minutes.
AOHI 30000MAH 100W Portable Laptop Power Bank with C-C Cable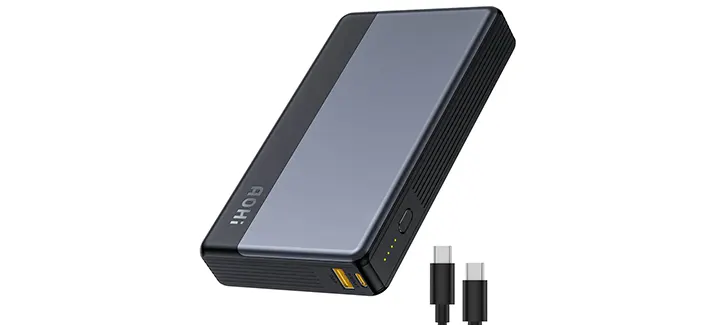 Boasting a 100W Power Delivery Fast Charger, the AOHI 30000mAh power bank allows simultaneous fast charging for laptops, tablets, and smartphones. Its massive 30000mAh capacity provides ample power for extended travel without the need for constant recharging. With advanced safety features and a compact design, it is the perfect travel companion for those always on the move.
Xtreme Power Bank Rugged - 10.000 mAh
The Xtreme Power Bank Rugged is the go-to gadget for outdoor enthusiasts, featuring an IP65 water-resistant design that can withstand harsh weather conditions. Despite its compact size, the 10,000mAh battery can charge your smartphone up to 2.5 times. Equipped with a powerful integrated flashlight, it ensures you are always prepared for unexpected emergencies during your outdoor expeditions.
RAVPower 20000mAh PD Pioneer 60W 2-Port Power Bank PB201
Joining the RAVPower PD Pioneer Series, this power bank is a safe fast charging pro, catering to all quick charge technologies. With a real 20000mAh battery capacity and a 60W output, it can charge your MacBook Pro or iPad multiple times, making it ideal for both work and travel. Its high-quality build and universal compatibility make it an essential accessory for any tech-savvy individual.
Energizer UE20058 20,000mAh Portable Power Bank
The Energizer UE20058 offers a 20,000mAh capacity with two USB-A outputs, ensuring convenient and rapid charging for your essential devices. With its rapid charging capabilities and an LCD battery life indicator, you can easily monitor the charging status. The dual input design allows for flexible recharging via Micro-USB or USB-C, providing an elegant and reliable charging solution for your mobile lifestyle.
Conclusion:
In conclusion, the selection of top power banks in 2023 caters to the diverse needs of modern users, whether they are frequent travellers, outdoor enthusiasts, or professionals constantly on the move. Each power bank offers unique features, including high capacity, rapid charging capabilities, and robust designs, ensuring uninterrupted access to power for your smartphones, tablets, laptops, and other devices.
With the Powerbank 2xUSB-C PD100W 30000 delivering exceptional charging power for laptops, the AOHI 30000MAH 100W Portable Laptop Power Bank provides a compact and reliable solution, and the Xtreme Power Bank Rugged - 10.000 mAh ensures resilience in harsh environments, these power banks are designed to adapt to various lifestyles and charging needs.
The RAVPower 20000mAh PD Pioneer 60W 2-Port Power Bank PB201 and the Energizer UE20058 20,000mAh Portable Power Bank offer advanced safety features, universal compatibility, and convenient charging options, making them essential accessories for anyone looking to stay connected and powered up at all times.
No matter your requirements, these power banks serve as the perfect companions, ensuring that your devices stay charged and ready for use whenever and wherever you need them. Choose the one that best suits your lifestyle and enjoy the convenience of uninterrupted power on the go.