Top Affordable Smartphones 2023: The Best Budget Phones in the UK
Today's smartphones are akin to having mini-supercomputers in your pocket, a far cry from the bulky handsets of the past. Technology continues to advance year by year, becoming not only better but also more affordable. The days of shelling out exorbitant amounts of money for an annual upgrade are gone. If you shift your attention away from the typical flagship smartphones, you'll uncover fantastic bargains among the array of budget smartphones available.
Seeking savings on your next smartphone? Discover the top budget handsets in the UK
Although headline-grabbing flagships such as the Samsung Galaxy S23 Ultra, Galaxy Z Fold 5, and iPhone 14 Pro are undeniably impressive, the era of needing to shell out a small fortune for a top-tier smartphone experience is fading. In today's market, exceptional budget-friendly smartphones offer tremendous value and capability. Intrigued? Let us be your guide as we delve into the world of budget smartphones, showcasing the cream of the crop.
How to pick the ideal budget smartphone for your needs
Choosing the ideal budget smartphone can be a daunting task, with numerous factors to take into account before making your final decision. Prior to making your purchase, it's essential to ensure that you've thoroughly considered all aspects. To simplify your decision-making process, we've outlined the key criteria you should keep in mind.
Should I buy a phone on contract or SIM-free?
Budget smartphones, as the name suggests, come with a lower upfront cost compared to other handsets, often starting at around £100 or even less. If you have the financial means, we strongly recommend purchasing one without a SIM card lock (SIM-free) or an unlocked smartphone. This way, you have the flexibility to choose the most suitable SIM-only plan from any network and can sell your phone whenever you decide to upgrade. However, if you're short on cash, you may opt for a contract deal. Keep in mind that these contracts may not offer the best value for budget phones, as you could end up paying considerably more over the duration of your contract.
Which smartphone operating system is right for me?
When it comes to budget smartphones, your primary choice for a mobile operating system is typically limited. In most cases, budget smartphones run on Google's Android OS. Android is known for its user-friendly interface, making it suitable for both first-time users and mobile veterans. However, it's essential to check which version of Android the phone is running, as older versions may lack regular security updates and important features.
If you prefer iOS, your options are more limited due to budget constraints. In this case, your best choice would be Apple's iPhone 11. While it may show signs of ageing, it's still available for purchase and offers an excellent budget-friendly option for those who prefer the Apple ecosystem.
What to consider in a smartphone display?
While flagship phones boast the best, largest, and highest-resolution screens, budget smartphones also offer high-quality displays. Typically, inexpensive handsets come with a minimum screen resolution of 720p, but some slightly pricier options provide Full HD (1080p) resolution displays for sharper visuals.
The majority of budget smartphones we recommend feature LCD panel technology, which offers excellent value for the price you pay. However, we're now witnessing the emergence of OLED displays in the budget segment, delivering even better colours and deeper black levels. To assess a phone's screen quality, delve into our comprehensive reviews.
Battery life and performance
When it comes to budget phones, they may not have top-tier internals, but this doesn't mean their performance is lacking. In fact, they often feature reasonably speedy chips that deliver a satisfying user experience. To gauge a phone's performance, take a look at the chip's clock speed (measured in GHz) and the amount of RAM (anything over 4GB should suffice).
Battery life is crucial, and it varies from phone to phone. When considering your next budget phone, pay attention to the phone's battery capacity (measured in mAh) – generally, the higher the number, the longer the battery will last on a single charge. If you need guidance, we've compiled a list of the longest-lasting phones in one place.
How much storage do I need?
Storage requirements for smartphones have grown significantly with the proliferation of apps, games, and images. To ensure you have ample space, consider a phone with a minimum of 32GB of onboard storage, though 64GB is the preferred option. Additionally, keep an eye out for phones equipped with a microSD card slot, allowing you to easily expand your storage capacity when your internal storage begins to fill up.
Top affordable smartphones to buy in 2023
1. Xiaomi Redmi Note 11: Best budget phone overall
Xiaomi has struck gold once again with its latest budget offering, the Redmi Note 11. This remarkable handset defies its modest price tag, delivering an impressive performance across the board in the UK.
At the heart of the Redmi Note 11 is the surprisingly swift Snapdragon 680 processor, which, in our rigorous testing, outperformed phones twice its price. The camera setup is equally noteworthy, boasting a whopping 50MP sensor among its ranks. The device's expansive 6.43-inch FHD+ AMOLED display, complete with a silky-smooth 90Hz refresh rate, further enhances the overall experience.
What's truly remarkable is that these high-end specifications are usually associated with flagship phones, making the Xiaomi Redmi Note 11 a rare gem in the world of budget smartphones in the UK. It sets a new standard for affordable handsets and offers exceptional value for its price point. Simply put, there aren't many alternatives in the UK that can surpass what this phone has to offer at such an attractive price.
Key Specifications
Processor: Octa-core 2.4GHz Qualcomm Snapdragon 680; Display: 6.43in 2,400 x 1,080; Storage: 128GB or 256GB; Cameras: 50MP, 8MP (wide), 2MP (macro), 2MP (depth); Operating system: Android 11; Weight: 179g
2. Nokia C21 Plus: The most affordable budget smartphone
A £100 smartphone used to bring about negative connotations, but the Nokia C21 Plus is far better than its bargain price suggests. Running a specially tweaked version of Android tailored for low-powered devices, the Nokia C21 Plus surpasses all expectations for a phone so affordable. Despite its comparatively modest hardware (featuring only 2GB of RAM and 32GB of storage), it performs surprisingly well and boasts a bright IPS display with a camera that holds up well for its price.
Its robust build materials and compact design contribute to its durability, and the battery life proved to be quite satisfactory in our tests. While it may lag behind in raw processing speeds, and there are superior options available if your budget can exceed £100, when it comes to sheer affordability, the Nokia C21 Plus stands as the undisputed champion.
Key Specifications
Processor: Quad-core 1.6GHz Unisoc SC9863A; Display: 6.52in 1,600 x 720; Storage: 32GB; Cameras: 13MP, 2MP (depth); Operating system: Android 11 Go; Weight: 178g
3. Realme C31: Best budget phone around £100
Realme has built a solid reputation for producing reliable budget smartphones, and the Realme C31 is their best value offering yet. To begin with, it doesn't resemble a smartphone that falls just above the £100 mark. It boasts elegant curves on the back and features a neatly elevated camera module housing three lenses. Although the bezels are somewhat thick, the 6.5-inch display they encircle is quite respectable. The 1,600 x 720 resolution provides sharp visuals, and the impressive 1,774:1 contrast ratio adds to the appeal.
In terms of performance, it outperforms its price range, thanks to the Unisoc T612 chipset, which can hold its own against phones priced closer to £150. While it may not excel in gaming performance, it handles less demanding games like Candy Crush with ease. Add to that a dependable primary camera and an array of features, including a fingerprint reader and a microSD slot within the SIM tray, and you've got yourself an outstanding bargain with the Realme C31.
Key Specifications
Processor: Octa-core 1.8GHz Unisoc Tiger T612; Display: 6.5in 1,600 x 720; Storage: 128GB; Cameras: 13MP, 2MP (macro), 0.3MP (monochrome); Operating system: Android 11; Weight: 197g
4. Apple iPhone 11 (renewed): The cheapest iPhone
The iPhone 11 may not be Apple's most current iPhone, but it remains a dependable choice. If your budget doesn't quite allow for a brand-new Apple smartphone, the iPhone 11, despite its 2019 release, still offers reliable performance, especially if you consider purchasing a renewed model.
The iPhone 11's build quality remains impressive, along with its attractive 6.1-inch Retina display. Additionally, the A13 Bionic processor, while not on par with the latest Apple chipsets, still handles a variety of demanding tasks effectively. It's worth noting that the iPhone 11 is compatible with the latest iteration of Apple's mobile operating system, iOS 16, ensuring you stay current on the software front.
For those seeking a budget-friendly Apple phone and don't mind a slightly older model, the iPhone 11 presents an excellent choice.
Key Specifications
Processor: Hexa-core 2.65GHz Apple A13 Bionic; Display: 6.1in 1,792 x 828; Storage: 64GB, 128GB, 256GB; Cameras: 12MP, 12MP (wide); Operating system: iOS 16; Weight: 194g
5. Nokia G22: Best budget phone for repairability
On the surface, the Nokia G22 appears to be a fairly typical budget smartphone, equipped with the kind of specifications one would expect in this price range. The 6.52-inch display utilizes an IPS panel with a resolution of 1,200 x 720 pixels and a 90Hz refresh rate. While it may not be the brightest or sharpest screen on the market, it gets the job done. Similarly, the processor and cameras are not top-of-the-line, but they perform adequately.
What sets the G22 apart from the crowd of similarly specced smartphones is its user-friendly design that allows for quick and easy replacement of various components, including the battery, screen, and charging ports, all without the need for a trip to a repair shop. iFixit offers affordable replacement parts and tools for sale, along with free step-by-step guides that can assist even novice repairers in the process.
Repair times may vary – a battery replacement can be completed in around five minutes, while more complex procedures may take a bit longer. However, the Nokia G22's accessible design makes all repairs easier. What's even better is that performing these repairs yourself won't void the phone's warranty, nor will it compromise its IP52 dust and splash resistance rating.
Key Specifications
Processor: Octa-core 1.6GHz Unisoc T606; Display: 6.52in 1,200 x 720; Storage: 64GB, 128GB; Cameras: 50MP, 2MP (macro), 2MP (depth); Operating system: Android 12; Weight: 196g
6. Apple iPhone SE 3 (2022): Best-value (new) iPhone
The iPhone SE 3 (2022) may be pushing the boundaries of what's considered a budget smartphone, but Apple's definition of affordability doesn't necessarily align with everyone else's. If you're in the market for a newer iPhone, as the previously mentioned renewed iPhone 11 is a few years old, then the iPhone SE is your best bet in terms of value.
Despite its retro appearance, the iPhone SE 3 is a compact powerhouse, boasting Apple's fastest-ever mobile chipset, the A15 Bionic – the same processor found in the iPhone 13, which costs over twice as much. This budget-friendly iPhone also features an exceptional 12MP camera. The only drawback is its relatively short battery life. However, if you're willing to stretch your budget a bit further compared to other phones on this list, the iPhone SE 3 (2022) is a compelling choice.
Key Specifications
Processor: Hexa-core 3.23GHz Apple A15 Bionic; Display: 4.7in 1,334 x 750; Storage: 64GB, 128GB, 256GB; Camera: 12MP; Operating system: iOS 15; Weight: 144g
7. Motorola Moto G13: Outstanding value
When thinking of budget phones, one often associates them with sluggish performance. However, the Motorola Moto G13 defies this stereotype by offering a smoother experience with a 90Hz refresh rate on its 6.5-inch display. While the resolution remains at 720p, which may not provide the same crispness as flagship phones, the enhanced refresh rate makes swiping and scrolling feel notably more fluid compared to the standard 60Hz alternatives found in most budget phones.
Powered by the Mediatek Helio G85 processor, the Moto G13 delivers commendable performance for a budget device. Additionally, its 5,000mAh battery excels, providing nearly 20 hours of usage in our standard video playback test. With features like a 3.5mm headphone jack, dual-SIM support, and the option to expand storage with a microSD card, the Moto G13 offers remarkable value for your money.
Key Specifications
Processor: Octa-core 2GHz Mediatek Helio G85; Display: 6.5in 1,600 x 720; Storage: 128GB; Cameras: 50MP, 2MP (macro), 2MP (depth); Operating system: Android 13; Weight: 184g
8. Honor Magic 5 Lite: Best budget phone for battery life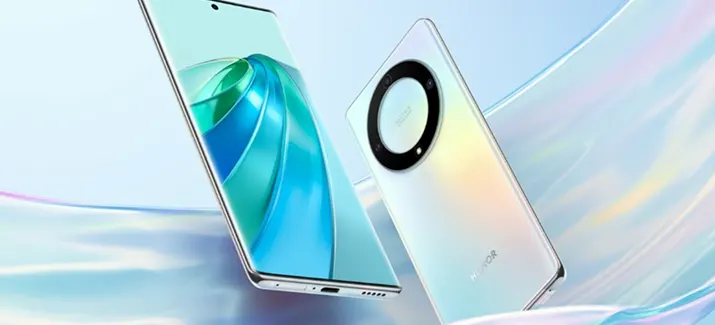 The Honor Magic 5 Lite isn't just the best budget phone for exceptional battery life; it boasts enough stamina to outlast phones that are priced two, three, or even four times higher. In our standardized test, the 5 Lite impressively lasted for a remarkable 28 hours and 45 minutes, firmly securing its place near the top of our list for the best phone battery life.
However, the Honor Magic 5 Lite isn't solely reliant on its incredible battery life. It also features a spacious and vibrant 6.67-inch OLED display that gracefully curves at the edges, offering a crisp 2,400 x 1,080 resolution and a silky-smooth 120Hz refresh rate. With OLED technology, the contrast levels are virtually flawless, and the impressive peak brightness of 518cd/m² adds to its appeal.
While there are some compromises, such as performance, which is decent but not class-leading, and the camera's performance in low-light conditions, if your priority is to get the best battery life for less than £300, the Honor Magic 5 Lite stands as an unrivalled choice.
Key Specifications
Processor: Octa-core 2.2GHz Qualcomm Snapdragon 695 5G; Display: 6.67in 2,400 x 1,080; Storage: 128GB; Cameras: 64MP, 5MP (wide), 2MP (macro); Operating system: Android 12; Weight: 175g
Conclusion
In today's budget smartphone market, you can find devices that offer exceptional value and performance, challenging the notion that quality comes at a high cost. These smartphones deliver impressive features, innovative technology, and excellent specifications while keeping prices affordable.
When choosing a budget smartphone, consider factors like performance, battery life, camera capabilities, and display features. While Android remains the dominant operating system for budget phones, iOS is an option with the iPhone 11.
Notable options in the UK's budget smartphone market include the Xiaomi Redmi Note 11, Nokia C21 Plus, renewed iPhone 11, Realme C31, Nokia G22, iPhone SE 3 (2022), Honor Magic 5 Lite, and Motorola Moto G13.
These smartphones provide excellent value and cater to various preferences, ensuring that you no longer have to compromise on quality or features due to budget limitations. With careful research, you can find a budget smartphone that meets your needs and offers exceptional value for your money.